Summary
All classes may be impacted for group pictures on February 20 and 21. More information will be forthcoming with regard to excused students. The rest of this email is for group/club/co-curricular activity/etc. group pictures for the yearbook.
Details
Hello colleagues —
It's time to schedule group photos for the East Tech Yearbook. Our photo days are Thursday, February 20 and Friday, February 21.
As of right now, there are no scheduled off-campus events. We've worked with the Activities Office to ensure that testing is not taking place and nobody is off campus. (We had to go all the way to the last week in February…man, this is a busy campus!)
We need to schedule your group photo. They will be scheduled in 10-minute intervals. We will work diligently to keep to this schedule.
Lifetouch will be taking group photos in our Gym from 7 a.m. until 2:30 p.m. on both days. If you book after 2:01 p.m., please note you are doing so on your own and not at the request of the school.
Guidelines
It's cool if you have group/club/co-curricular activity/etc. shirts, jackets, uniforms, scrubs, etc. or other coordinated attire to wear it. (It would actually look really cool if every organization wore their required workplace attire, or at the least, matched.
The group/club/co-curricular activity/etc. adviser is not required, but welcome, to be in the picture.
We will want you to fill out the names for the group, so please learn everyone's names so Yearbook isn't stuck with Mission Impossible of identifying all your members. Appoint someone in the club (like the President) to get everyone's name who is there. Thank you!
On your specific day and time, have all your club members meet in the gym and take their beautiful picture.
Passes for Students NOT in your class during your time
Once you reserve a time and date through the website we will send you passes that will be time stamped when students arrive in the gym and depart on picture day. More information will be contained with your passes.
Here's how to schedule a time
Use the link that is provided in the final step to access our calendar.
Either Use the navigation arrows to navigate to February 20 & 21 or click on the link in the center of the screen.

3. Click one of the gray boxes using the time on the left side to schedule your time. Each gray box indicated a ten-minute period.
February 20 is a "B" Day and February 21 is an "A" Day.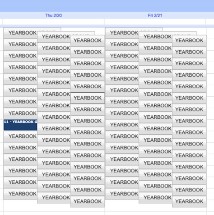 4. Once you click the gray box, update the "Group Name" and number of students in the "what" field.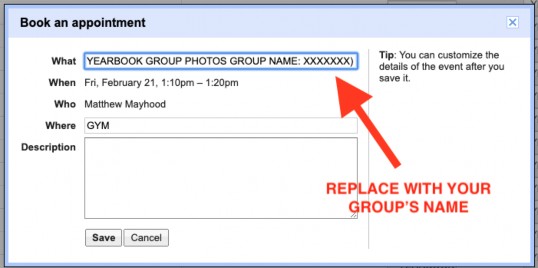 5. Click save. This will add it to your Google Calendar as well as mine.
Click HERE for the calendar.